European Thermography is a whole body screening - actually designed for men, women & children. It is NOT an imaging device, like a mammogram, MRI, ultra sound, or digital imaging thermography.
The test is:
gentle & painless
non-toxic & non-invasive
informative and holistic
and even has insurance codes
European Thermography uses a temperature sensor to take temperature measurements at over 100 points on the body; gathering information about the functioning health of the nervous system and blood flow of your major organs, glands, lymph, sinuses and teeth.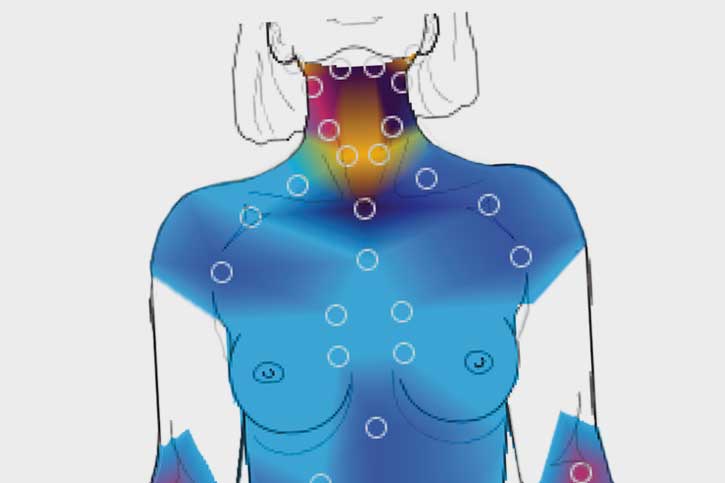 History of Thermography
Thermography was born in the 1950s, and was used as a top-secret cold war spying device. In 1957, a surgeon, Dr. R. Lawson, discovered that his breast cancer patients had higher skin temperatures over their cancer area. He was the first to use Breast Thermography to study breast cancers. Since the 1970s, Thermography has been used for many diagnostic purposes, from finding sources of nerve inflammation, infection and circulatory problems, to finding cracks in airplanes.

Thermography equipment has evolved significantly since those days. Early problems such as improper detector sensitivity, thermal drift, calibration and analog interface have long since been corrected.

Research problems were encountered early on that led medicine to pursue Mammography instead of Thermography. For instance, Thermography studies identified breast cancers that could not be verified by Mammograms until eight to ten years later. Initially, researchers thought Thermography was giving false positive information. Mistakes in another test also inhibited the acceptance of Thermography. The Breast Cancer Detection and Demonstration Project (BCDDP) 1973-1979 had a poor study design, a faulty premise, poor statistical breakdown, but most significantly, poor training of Thermography technicians as opposed to excellent training of Mammography technicians.

Since this time, there are over 800 peer reviewed studies on Breast Thermography in the Index Medicus Literature. Over 300,000 women are included as study participants, and studies have followed patients for up to 12 years. These studies reflect that Breast Thermography, when properly interpreted and regarded as a dynamic physiological measurement, has a 90% accuracy and sensitivity to detect changes in breast tissue necessary for prevention and assessment regarding cancer suspicion.

and very importantly:

Christiane Northrup, M.D., a prominent women's health author and researcher says in her latest book, "Routine thermograms could save thousands of women from undergoing unnecessary biopsies and disfigurement" and that "Thermography is the missing link that holds the key to true prevention of breast cancer."

1) In the AMA's latest findings, mammography before the age of 50 often leads to false positives that cause more problems, and invasive and unnecessary procedures, than if not done at all. Another comprehensive study says, "only 1 death in 1,900 would be averted with mammography in women under 50, and after 50, more than 1,300 deaths would be averted with mammography".(Annals of Internal Medicine, 11/09). Something needs to fill the gap for women age 25 to 50. Mammography is no longer a viable method of screening.

Note:
The value of Regulation Thermography has recently been recognized in the U.S., as well as Germany, as published in the new book entitled Complementary Oncology by Dr. Josef Beuth of University of Cologne, Germany, an emeritus professor of internal medicine who has surveyed some 35 medical devices which claimed clinically verified results. The fuzzy logic dynamic thermography system was held as superior to other less accurate devices. Fuzzy logic treats the patient as an individual and self-adjusts its results to the peculiarities of each individual, thereby ruling out false readings seen with other similar devices.